News & Features
2021.01.05 Features

Artist Q&A featuring Brolga
For the sixth installment of our Q&A segment, Australian artist and muralist Brolga has graciously answered a whole lot of questions for us! His illustrations feature a motley crew of funky and colorful beasts who love to play and eat and have fun. Brolga himself seems like an artist who loves to find joy in their everyday life, and it clearly translates to his work. Without further ado, here's Brolga:
1. What is your morning routine?
I usually wake up and read the news. I'll then get up, make avocado toast for breakfast and be at my desk around 10 am.
2. Where do you like to work?
I work from home and that's where I've found is optimal for me. Everything is so efficient that way. Plus, if I need to work late, I can still see my partner. Or if I need to nap during the day, I can do that easily. I really like the idea of being able to work from home while living in cool places.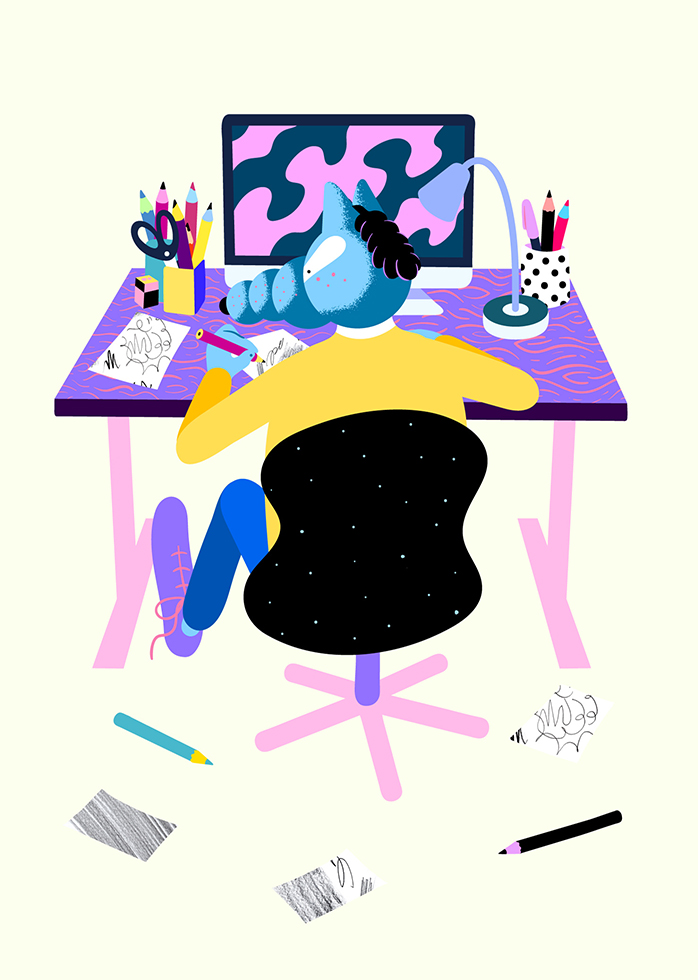 3. What are your favorite materials?
When I was younger, I couldn't stand mechanical pencils but now they're all I use! My favourite that one is by Aristo, I found it in Seoul and it has a nice and thick lead. Other than that, it's my iMac, scanner and Wacom tablet. These are the things that I use the most.
4. Who or what is your biggest muse?
Travelling.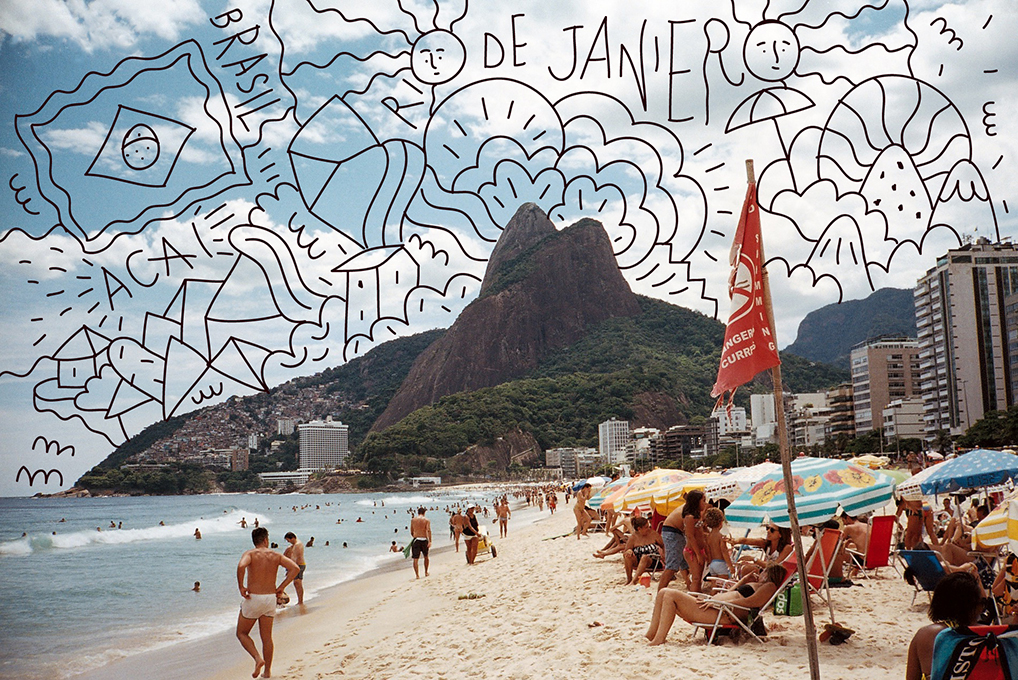 5. When you start working, what do you do first?
When I start working on a new project, I'll do lots and lots of research to get a grasp of the subject. I'll then begin with super rough sketches to try out ideas that quickly pass by.
6. What are your favorite subjects to draw?
Creatures that have never existed before.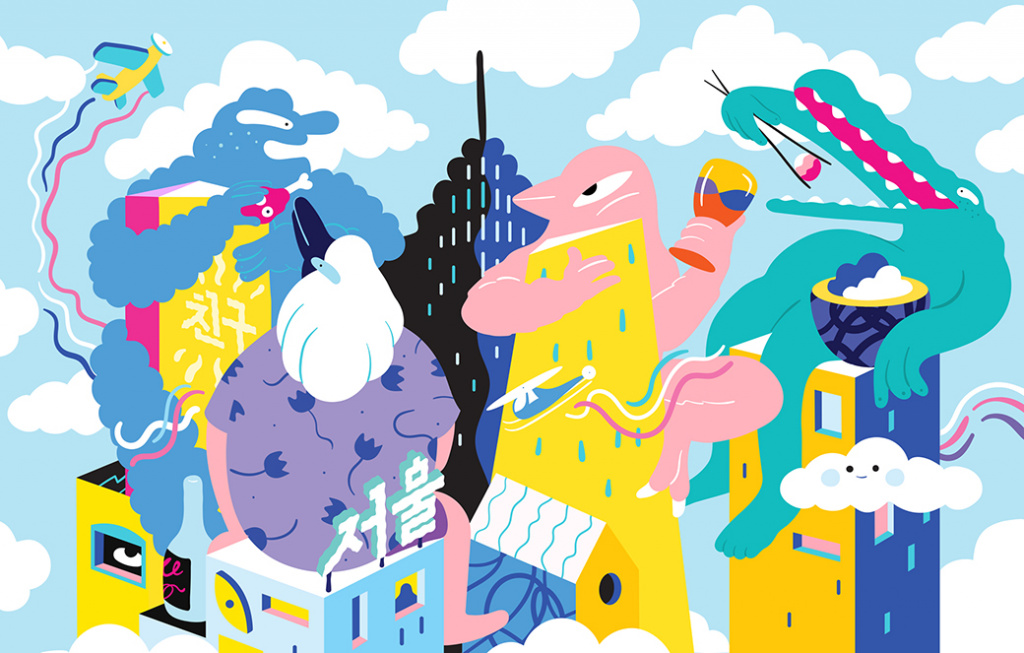 7. Who are your favorite artists?
Some of my favourites artists include Pablo Picasso, Tom Wesselmann, Stuart Davis, John Chamberlain, Reg Mombassa, Roy Lichtenstein, Fernand Leger.
8. If you could see how one artist works from beginning to end, who would it be?
John Chamberlain. He up metal and old cars to make these fantastic sculptures. I heard when he was too old to do it himself, he used to sit in a swivel chair in the middle of a huge studio and direct his assistants on how to crush them.
9. How do you get over a creative hump?
There's lots of ways to get over a creative but they're all based in finding intent and excitement to make new work. Sometimes, I'll book a trip to a country that I have never been before. Other times, I'll simply try a medium that I've never used before.
10. If you were to make a 10 piece series, what would it be about?
My dream is to organise an exhibition where I travel to another country and spend time visiting scrap yards and antique shops. I would gather up all these interesting items and at the end of the trip, I would assemble them into artworks and have an art show in that country. I could do that in 10 countries no problems.
11. What other art form would you like to try, or already do, and why?
I love old Beatles-esque illustrations, so I would like to learn how to use an airbrush.
12. What book have you read recently, or what is your favorite book?
I recently read "Down and Out in Paris and London" by George Orwell, which I loved. My favourite book is probably "The Town and The City" by Jack Kerouac.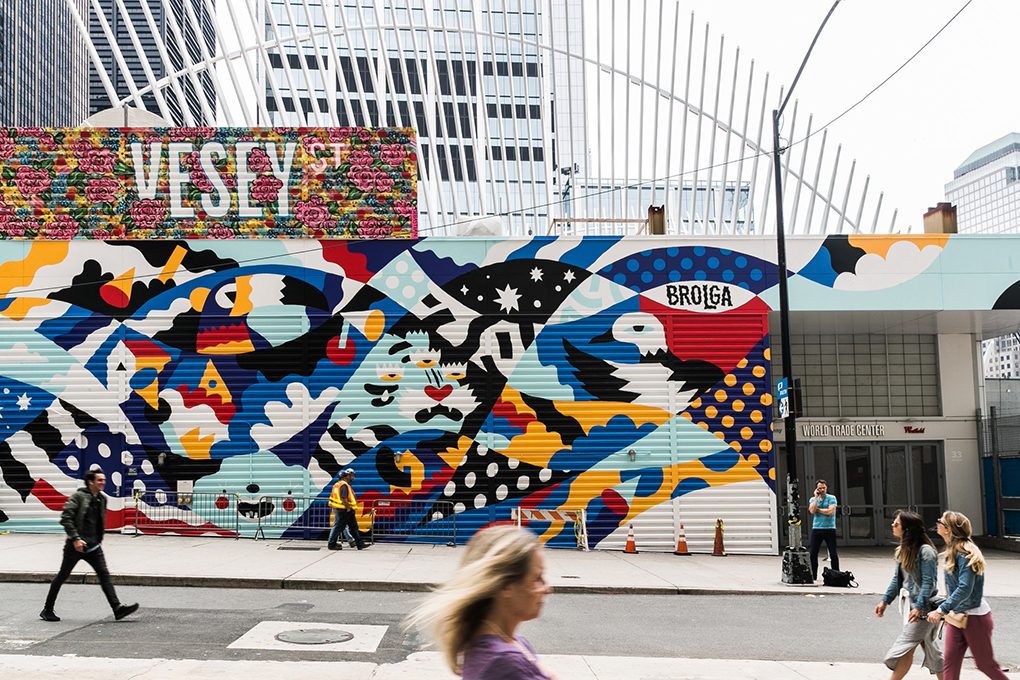 13. What sort of music do you like?
I listen to lots of different music. We're talking a mix of indie, house, ambient, folk and rock n roll.
14. When you meet another creative, what are you most interested by in them?
I like to ask questions about the practical things that I struggle with. Like how to properly send a print in the mail or how they handle certain situations.
15. If you were to collaborate with another artist living or dead, who would it be and what would you do with them?
I would like to collaborate in fireworks with Chinese artist, Cai Guo-Qiang.
16. If you could live in any era when would it be?
Right now is good but any era before smart phones is sounding better and better.
17. If you could move anywhere and live comfortably/freely where would it be?
If I could live in a new country every year, I would. I would love to live in Bangkok. I would also love to live on a small Pacific island.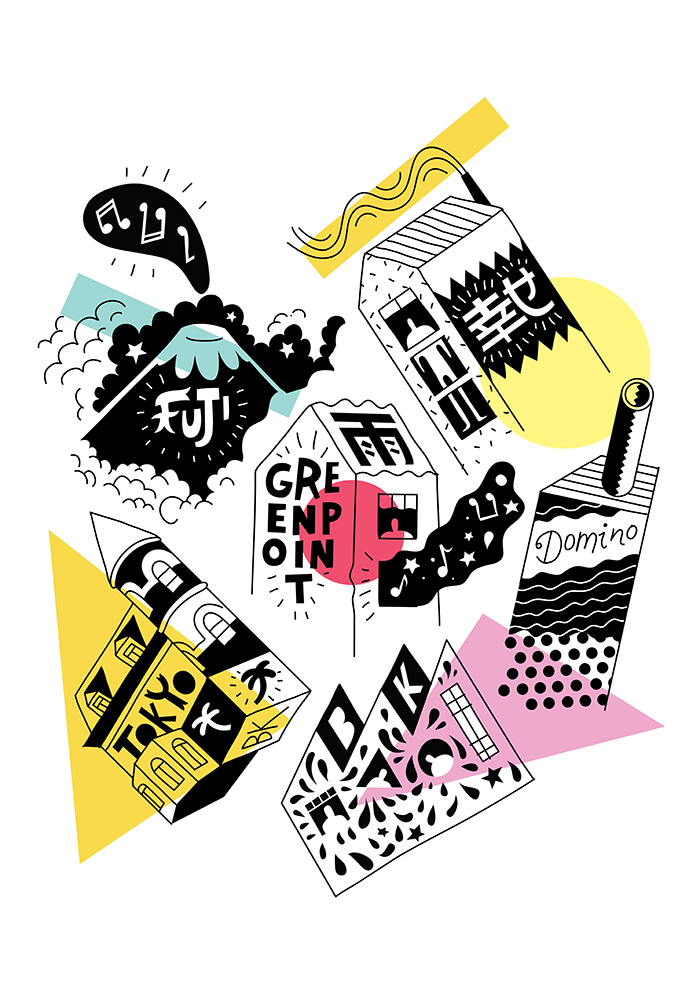 18. What is your ideal vacation?
Anywhere warm, swimming and surfing.
19. What do you do when you have to be home with nothing to do?
I tend to my garden, I cook and try new recipes, I waste time online reading about UFO's and Australian sports on the internet, I draw and sketch new ideas, I pester my partner.
20. What is one thing you want to do this year?
I would simply like to see my family. My state has been barred from traveling to other states in Australia during Covid and I miss my family.
21. What are three things you want to do within the next 5 years?
I would like to start creating more pop-up styled installations and exhibitions. I would like to write a children's book. And I would like to buy a house near the beach.
22. If you had unlimited resources, what would you create?
If I had unlimited resources, I would push it towards helping other people.
23. What is your favorite meal?
Over the past year, I've perfected the toasted ham and cheese sandwich. It includes; pickles, tomato, ham, cheddar, pesto, tzatziki and spinach.
24. What is your favorite drink?
There's a few; Bunderberg Ginger ale, Iced tea, wheat beer.
25. If you were to throw a party, what kind of get together would you organize?
I would get a realllly good Beatles cover band and put them in the backyard of a big mansion (with a pool). I would then invite all my family and favourite people. Done.
26. Where is your favorite place to be around the location you live in?
I have a magical park down the road from my house. I has saved me during Covid and it now holds a dear place in my heart.
27. If you had to give a tour of your city to an artist you admire where would you take them and why?
I would probably throw them on a bike and show them the Keith Haring mural nearby and then ride around the city and look at all the cool, old buildings in Melbourne.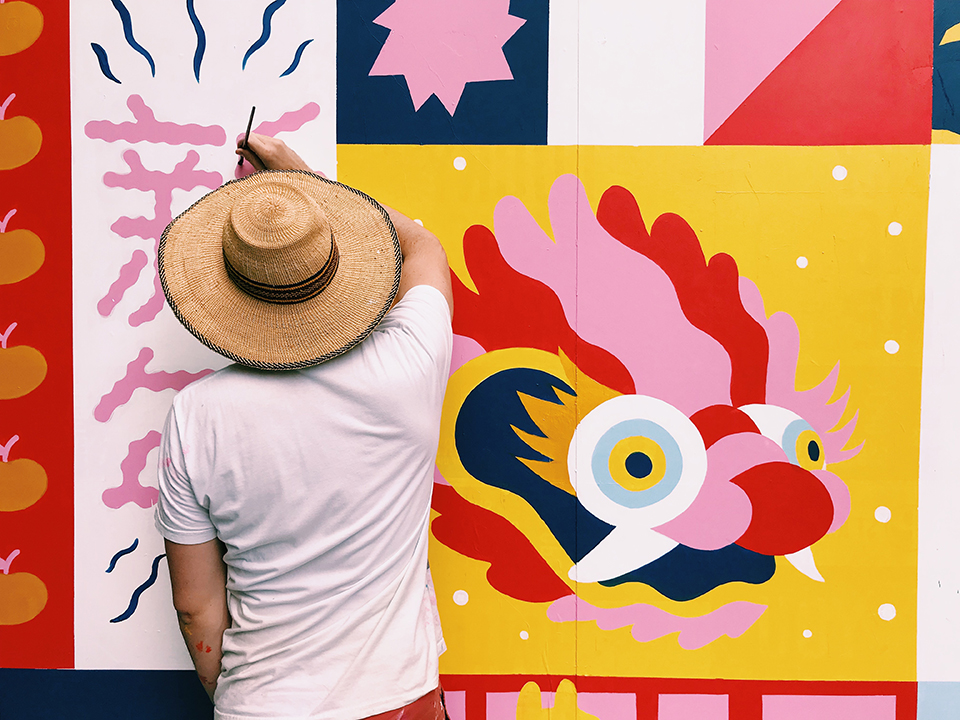 28. When you see artwork that you think is good, how do you react?
I'll get consumed in it for a moment and afterwards, in someway, it would have changed me.
29. What is one job that you would do for free, even if it was hard and it took long?
I would taste-test every ramen from Sapporo to Fukuoka.
30. If you were to teach a class, what would it be?
Drawing Strange Things 101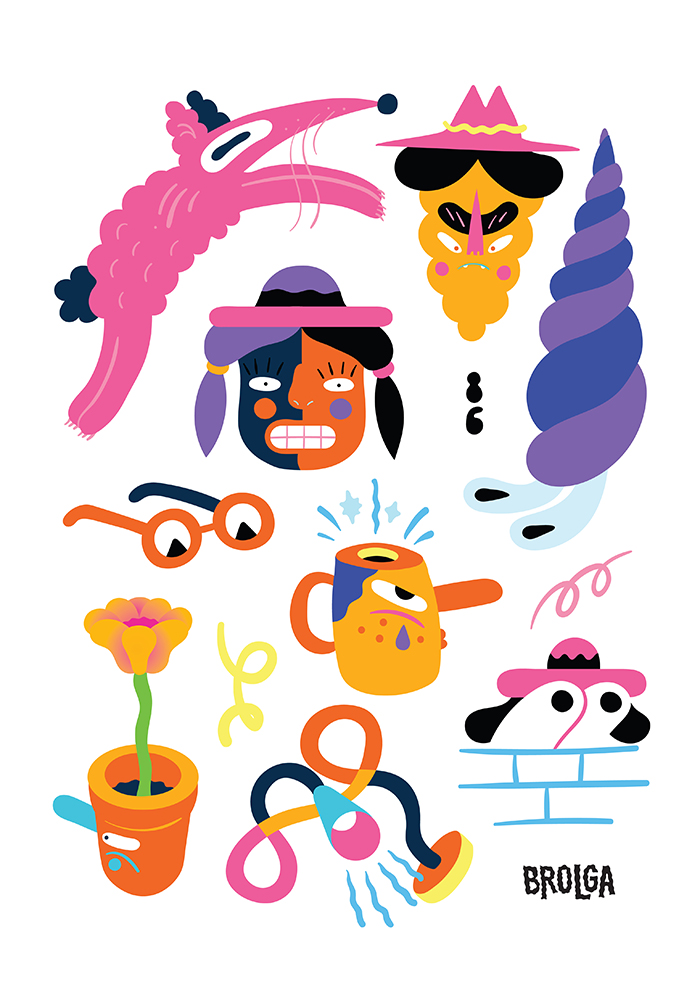 31. What are some new skills you would like to learn?
I would like to learn how to tuft a rug.
32. If you were to talk to someone who doesn't know too much about art, what would you say to convince them to try it out?
I would say don't worry about being judged or trying to be good. Just have fun.
33. What is your favorite palette, please name at least 3 colors.
Pink, electric blue, yellow, teal and black.

34. What is your favorite movie?
Lost in Translation
35. What time of day are you most able to concentrate?
Late at night
36. What time of day are you most relaxed?
Late at night
37. Do you have a favorite distraction?
I love an Australian sport called Australian Rules Football and I spend too much time thinking about it.
38. How do you unwind?
I meet up with friends for a beer, see live music, garden or plan a future trip.
39. What is one word of advice you would give yourself 10 years ago?
You have everything you need to achieve your dreams.
40. What is one thing about yourself that you hope won't change?
I hope that I never lose my sense of humour.