News & Features
2020.07.17 Features

Artist Q&A featuring Stina Persson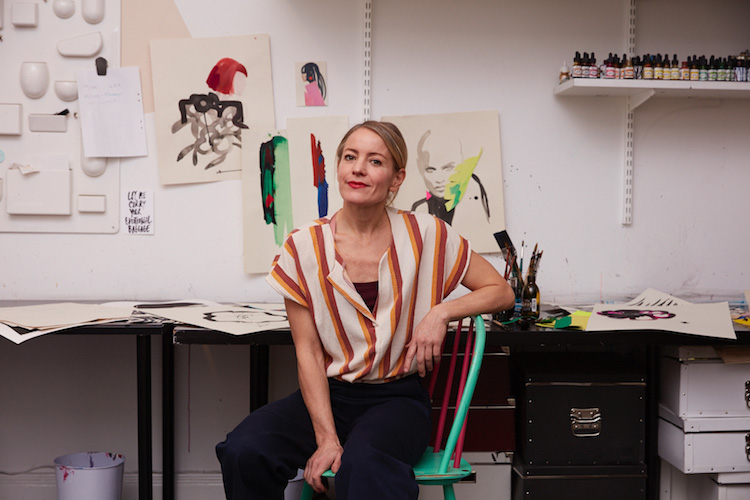 Artist Q&A featuring Stina Persson!
1) what is your morning routine
I go to the cafe across the street and get myself a great cup of coffee. Without coffee I wouldn't function.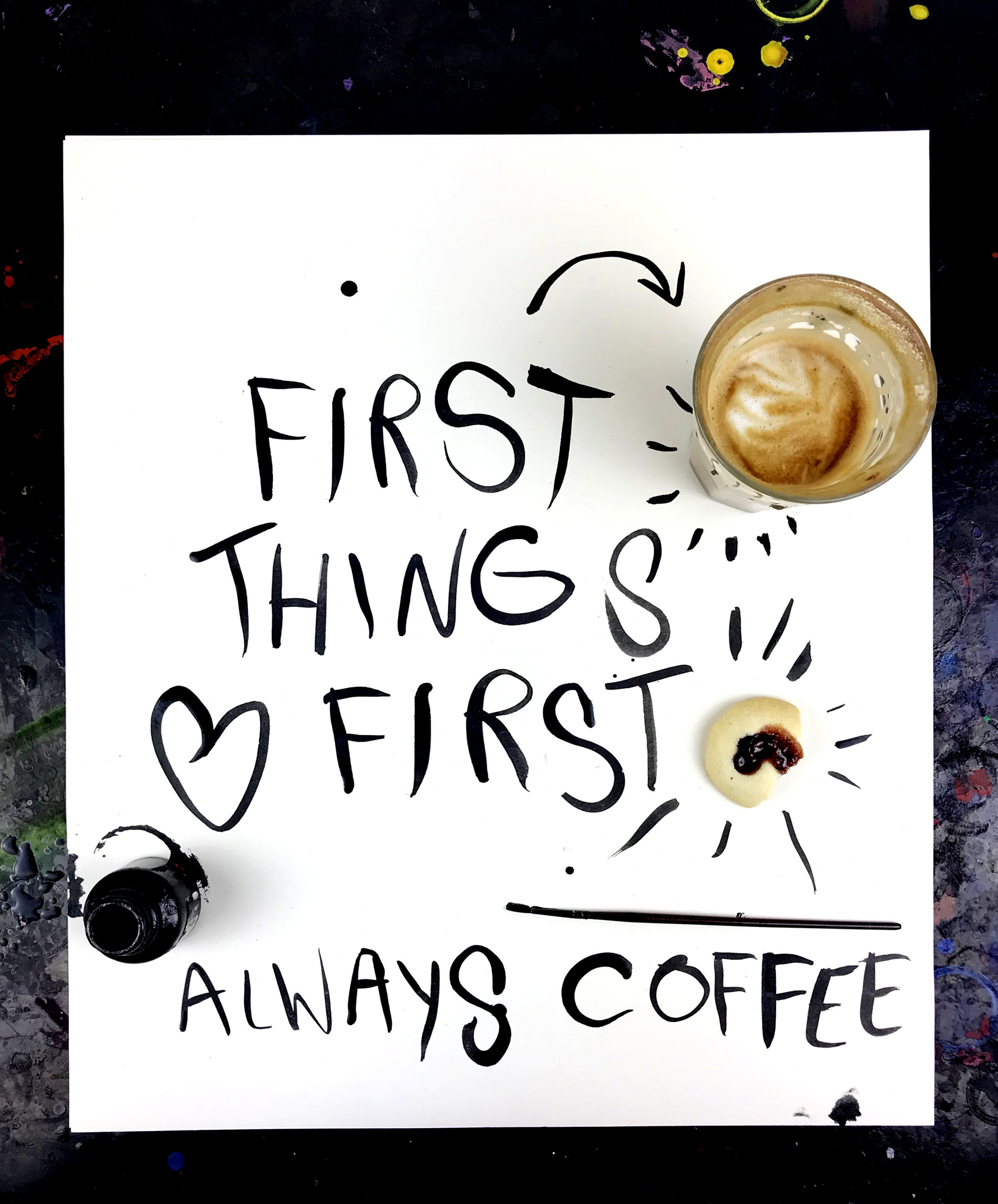 2) where do you like to work.
I wish I would say anywhere, that I bring a sketchbook wherever I go, but it would be a lie. I really love working in my studio.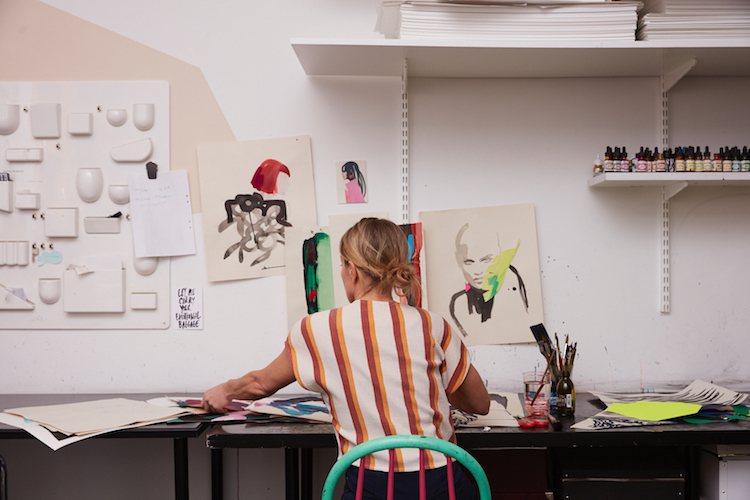 Or on location, getting energy from the people and space around me. I hope to do more windows and murals once we're back to traveling again.
I plan to one day build a proper artist space in the attic of a barn belonging to our country cottage. But right now there is barely a floor and no windows…which means it would be a huge undertaking. It would be so dreamy though, and perfect for working large scale.
3) what are your favorite materials
I prefer to work with liquid material like inks and water colours and sometimes combining with bits of paper to create harder edges. I never want my work to look to wishy-washy or fluffy, but to keep some weight and edge.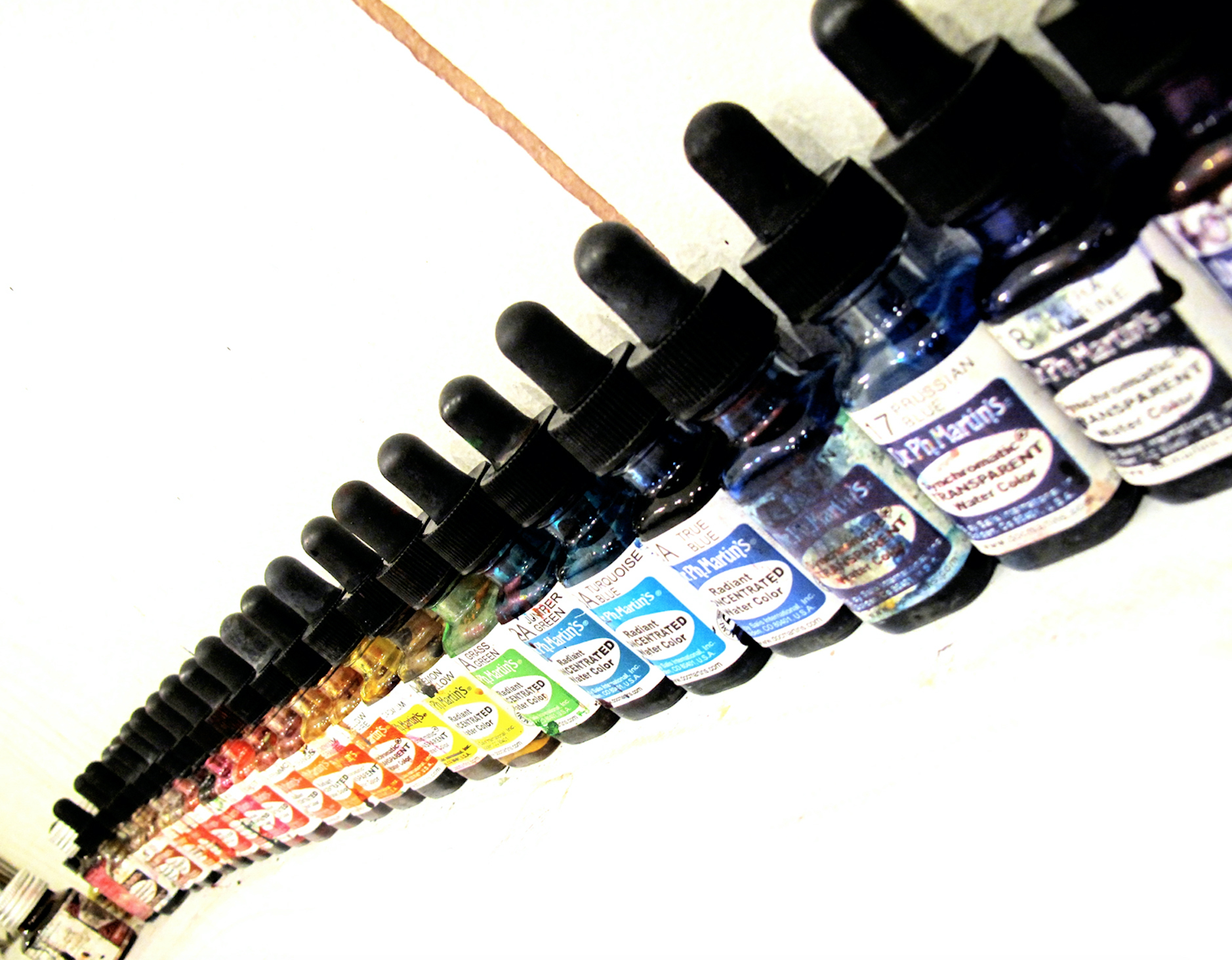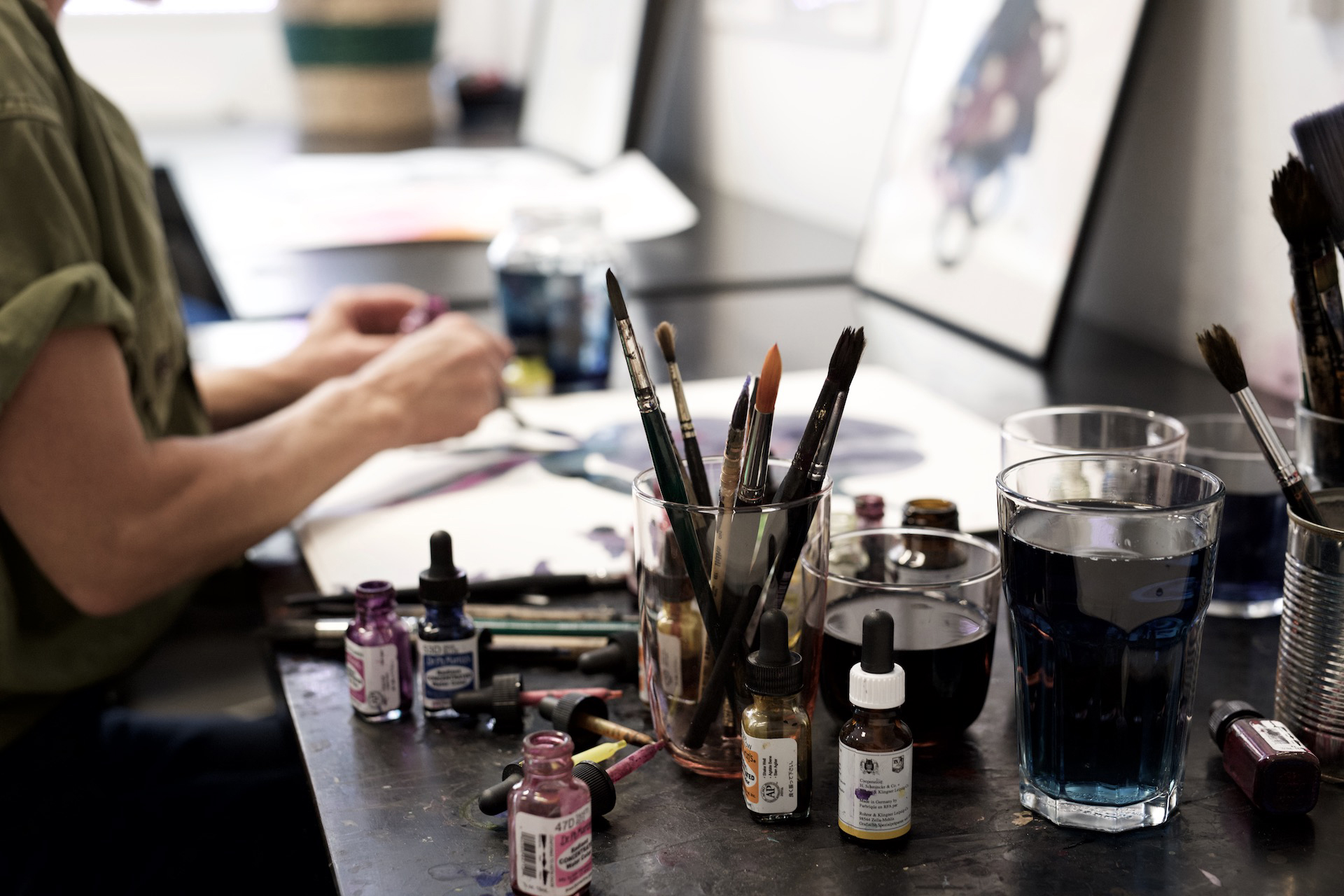 4) what are your favorite subjects to draw
People and faces, details of clothing, shoes, and plants…and food stuffs.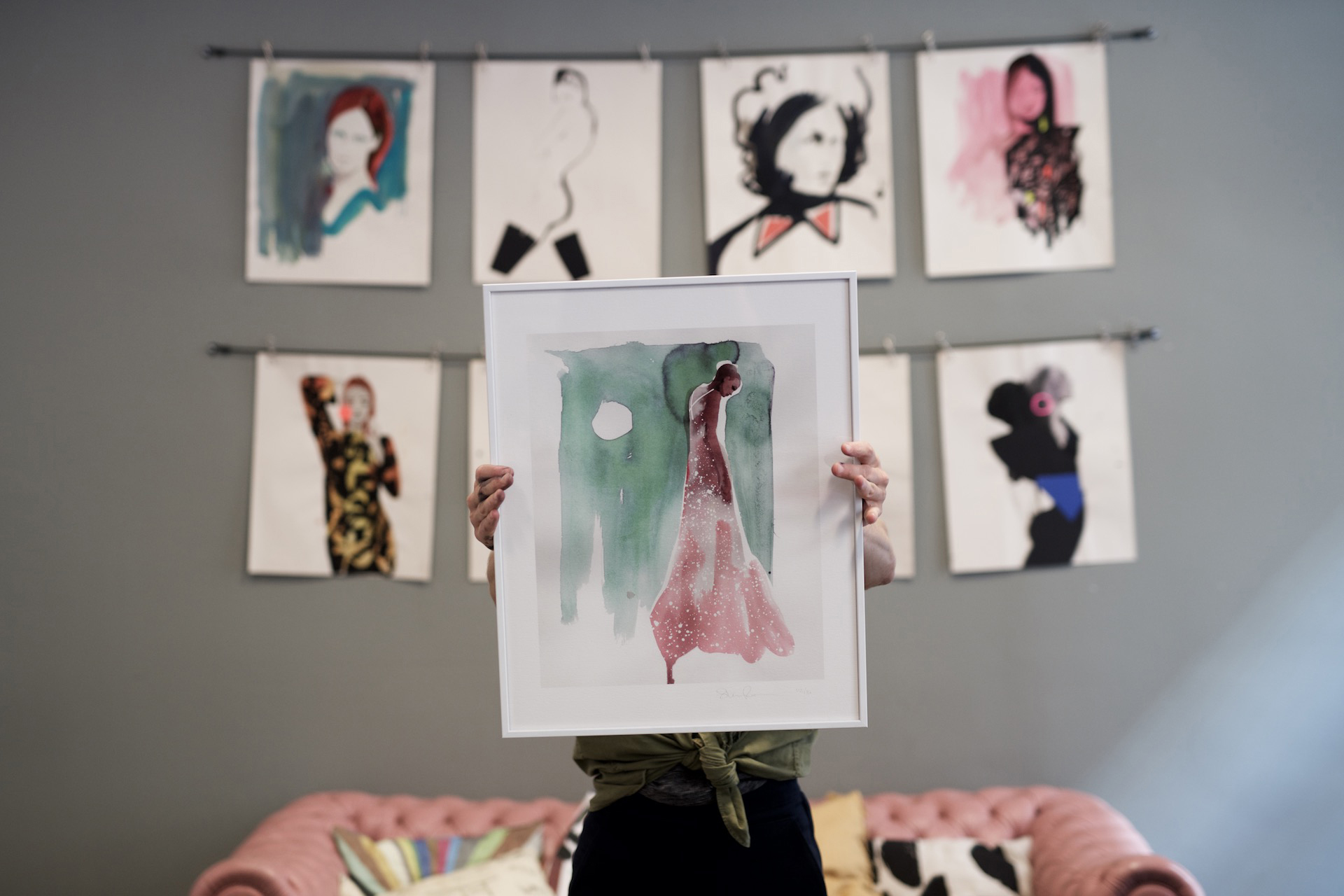 5)if you could see how one artist works from beginning to end, who would it be
Matisse or Picasso maybe.
6) how do you get over a creative hump
Chaining myself to the drawing table, but pimping it with chocolate and coffee. Whip and carrot!
7) what other art form would you like to try, or already do, and why
Sculpture and clay. It si so rewarding with to create something three dimensional. That why I love to bake too, three dimensional and possible to eat. What's not to love?
8) what book have you read recently, or what is your favorite book
Normal People by Sally Rooney. Such a good book. Now there's tv-series, but I am worried it'll spoil the magic. Another book, or book series are My Brilliant Friend by Elena Ferrante. And yes, I've watched the tv-series too. If the tv-version is great the books are…brilliant!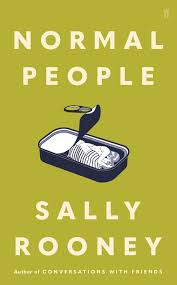 9)when you meet another creative, what are you most interested by in them
If they are nice, smart and have a sense of humour. Like with all people. And I am plays curious what a normal day looks like in people's lives. But I am as interested in knowing that regardless of profession, I find it fascinating.
10) if you were to collaborate with another artist living or dead, who would it be and what would you do with them
Matisse, please! We could happily cut bits and bobs of paper, and I would mostly listen as my speaking French is not so good! I am sure he has some good stories. And I would love to see how he makes is choices. I believe creating art is most about making choices, adding or taking away, keeping or deleting. That's why I value the analogue part of my work so much and there are endless opportunities to change once you're at the computer and I am not sure that is always such a good thing.
11) if you could live in any era when would it be
My childhood 70's! But I'm not sure I would be able to take the sexism from any other era. I am very happy I am a woman living in 2020.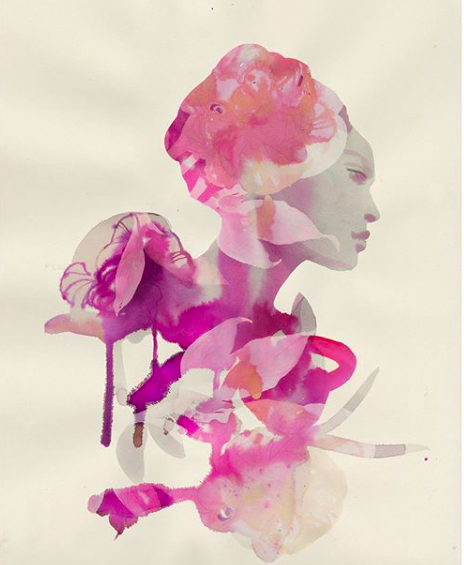 12) if you could move anywhere and live comfortably/freely where would it be
Someplace warm, where my feet would walk on warm terracotta tiles. So…Italy!
13) what is your ideal vacation
Italy, with my family. Finding a house in the countryside with a pool to keep my three sons happy and entertained.
14) what do you do when you have to be home with nothing to do
Bake, cook and plan for dinner with friends. How I miss having dinner with friends!!
15) what are three things you want to do within the next 5 years
Go to Japan! I briefly lived in Tokyo when I was 18, working in a Mexican restaurant…I've been back twice since and I was going this March.
16) what is your favorite drink
Coffee, elderberry juice, and oaky, rich red wine!
17) where is your favorite place to be around the location you live in
I love my studio and my home, both in a very green area of Stockholm, with lots of cafes, wine bars, thrift shops and parks. I love the entire area so much. Great for raising kids and finding colourful thrift store blouses- and to have an outdoor cat, like we do!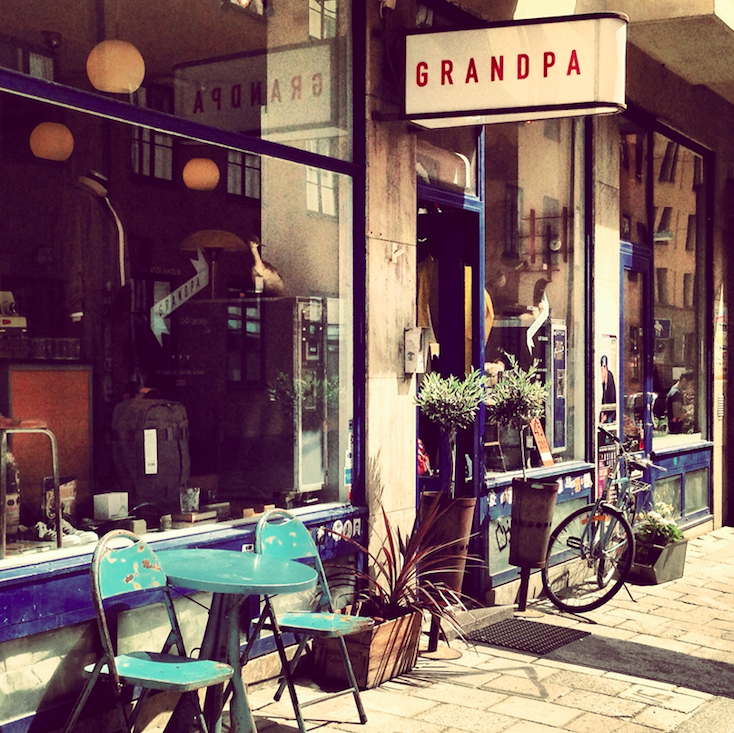 18) what is one job that you would do for free, even if it was hard and it took long
A real collaboration with someone like Dries van Noten or Miuccia Prada.
19) if you were to teach a class, what would it be
Figuredrawing or color.
20) what are some new skills you would like to learn
I wish I could animate my drawing. Unfortunately I have no urge to learn. I don't want more hours in front of the computer.
21) what is your favorite palette, please name at least 3 colors
Bright pink, yellow and nude.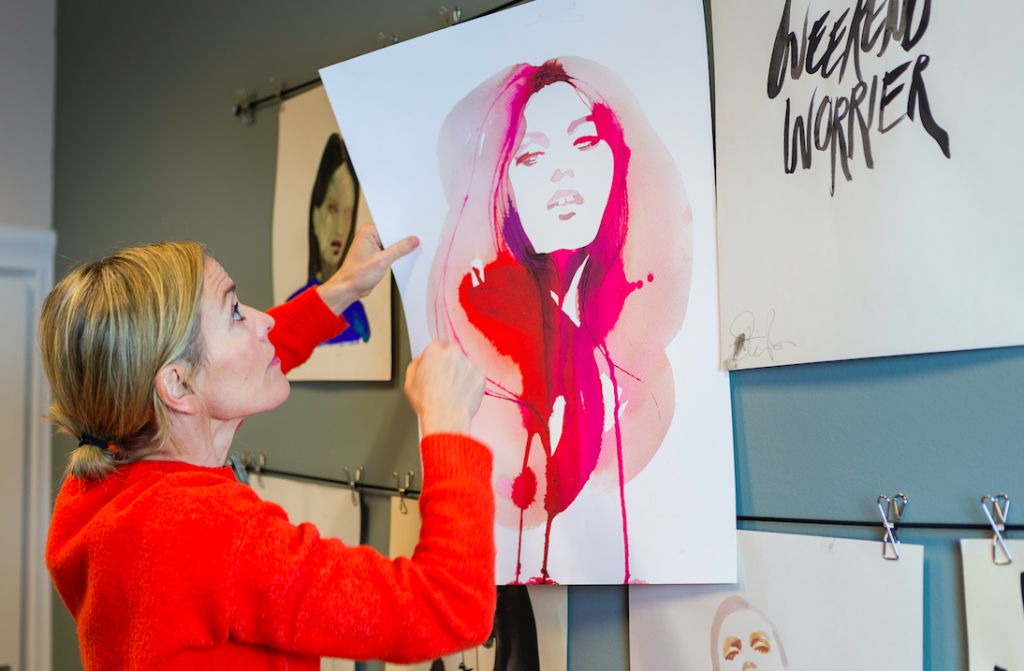 22) what is your favorite movie
Wong Kar Wai's In The Mood for Love. Every frame is a piece of art.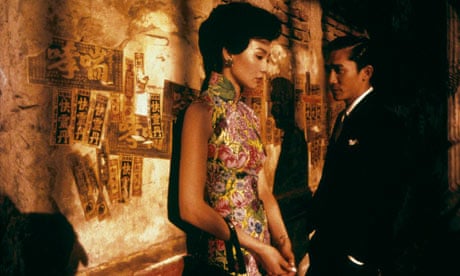 23) what time of day are you most able to concentrate
Usually right before I need to head back home. I am trying to make it first thing in the morning, and I am getting there. It would make sense as I am very much a morning person.
24) what time of day are you most relaxed
After a good lunch work out I am relaxed but alert.
25) do you have a favorite distraction
A common distraction is scrolling Instagram, but that is a habit I'd like to give up. Working out maybe. Chatting with my kids, or cooking.
27) what is one word of advice you would give yourself 10 years ago
Enjoy it, it is not so serious. And be more like a man, and say yes to things even if unsure of how to  tackle it. Things work out, and your margins are exaggerated.
28) what is one thing about yourself that you hope wont change
I really trust other people. I believe people want to be good and do good. Well, not Trump, but the rest.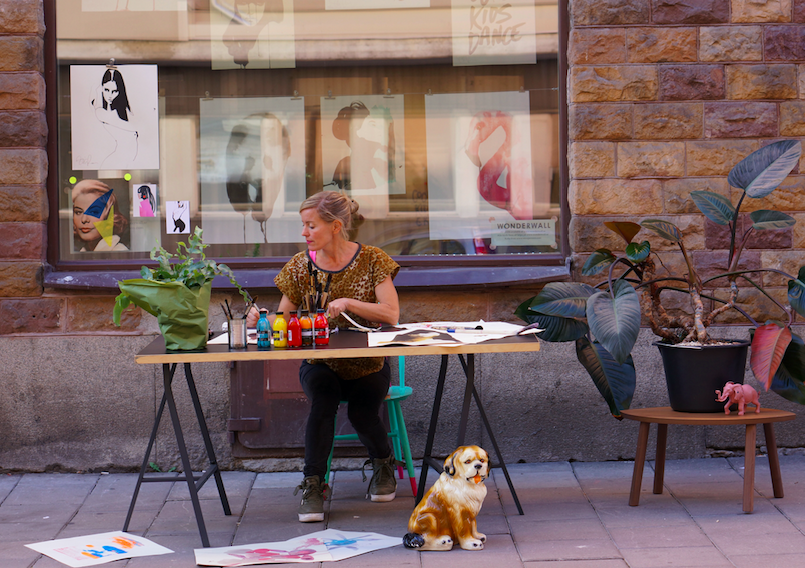 View Stina Persson's Portfolio